Navy Pier
in cooperation with
Chicago Yachting Association
presents
Venetian Night 2016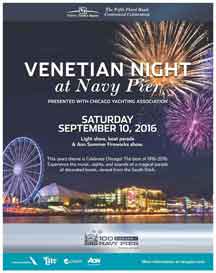 After much discussion between Chicago Yachting Association and Navy Pier, the executives of Navy Pier made the decision to cancel Venetian Night for 2016, because of the low number of participants.
We are looking forward to 2017.
If you don't want to miss the latest Venetian Night information, Click Here to join our mailing list!
---